We've reviewed editable maps from BJDesign.com and have another for you to look at from PresentationMall. Both companies offer high quality editable maps. The main difference is their collections. One might have one thing you need while the other has something else you could use.
Many free maps you can find online aren't editable or come in vector format. Vector format lets you resize anything without losing quality. If you try to make a detailed JPG or GIF larger, you'll notice the quality goes down and the image becomes blurry or jagged.
PresentationMall has over 300 map versions in their collection including:
USA maps
US state maps
State maps with counties
Country maps
Regions
Continents
World maps
The maps come in the following formats (all are vector except JPG and GIF):
PowerPoint
WMF
Microsoft Word
Adobe Illustrator
Editable PDF
JPG
GIF
Editable Flash
If you use the PowerPoint maps in your BBP presentation, you can color code every element or separate them to show territories. So sales people can define and build sales and marketing territories. You can also add your own elements to the maps, edit borders, separate counties, and change colors.
Below, I pulled out Prince George's county in Maryland to highlight it and give it a different color. It only took a couple of minutes. The other image shows another map in the same general area except it highlights roadways and waterways instead of counties. The third one shows the counties along with the roadways.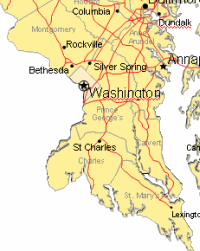 Having all of them gets busy, so you have various options for the kinds of maps you need. Click anything to stretch it, delete it, change it.
PowerMapz State packs come with all formats of each state maps including:
State Map with editable counties
State Map with editable counties with major cities and major highways
State outline map with major cities and roadways
State outline map with major cities, roadways, and waterways
State clickable HTML image map (clickable map for use in Web sites)
The folks at PresentationMall also generously provide a discount for your use. You can get 20% discount on any map order over $40. Use discount code: BBPPROMO. You can use the presentation wizard to help locate the map and the format you need.