In an earlier post I covered how you can shrink your PowerPoint files using PowerPoint tools, which mentioned that specialized software can do a better job of shrinking files depending on your needs. Such software works with a server and offers more options such as treatment of images and how much to sacrifice in image quality.
For treatment of images, programs that shrink files can flatten the image to make the file size smaller. For example, if you have an Excel spreadsheet in your presentation, you can click the spreadsheet to edit it. But flattening the spreadsheet turns it into an image, so you can't edit it. Software like NXPowerLite solves the problem by automatically adding on a unique file name to the optimized presentation so you don't overwrite the original – when I tested the software, I set the option to tack on "NXP" at the end of the file name.
As a test, I selected The Sum of Its Parts presentation from slideology (195), a 5.3 meg file with 32 slides. From within PowerPoint, go to Add-Ins and click Optimize with NXPowerLite. This opens the NXPowerLite window where I customize the compression settings to the following:
Allow JPEG compression with a quality of 5 (1 is low quality and the smallest size while 9 is the highest quality and largest size).
Allow image cropping.
Allow image resizing.
Optimize display for 800×600.
Optimize Word and Excel images for 150 dots per inch (DPI).
When you click Optimize, NXPowerLite takes off. Within 15 seconds, the file shrinks to 4.1 MB for a 23% reduction. See the smaller file and compare it to the original. That may sound small, but it isn't since this presentation contains nothing but images – no text or bullet points.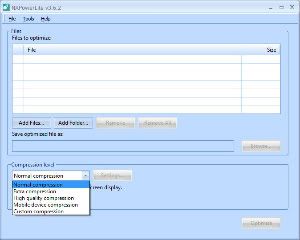 You can also run NXPowerLite without opening PowerPoint. It also minimizes Word and Excel files. When the program shrinks the files, it retains their original format and doesn't turn them into ZIP files. You don't have to customize the options as it comes with four other options:
Normal compression: For on screen display.
Extra compression: For sending files by email, but quality won't be as good as normal compression.
High quality compression: Larger file since images will be suitable for printing.
Mobile device compression: Targets screens at 320×240 pixels and smaller. I run the presentation through this mode and it took about five seconds with an 82% file reduction to 997KB! Check out the mobile version of the presentation.
NXPowerLite comes with a desktop edition and a file server (for office networks) edition. Try it free and see how it works for you. If you like it, the folks at NXPowerLite give a 20% discount to BBP readers. Enter the code BBP20 in the 'Discount Code' box on the purchase page to receive the discount (the code is valid until the end of October).