The Beyond Bullet Points approach focuses on telling a story to keep your audience's attention. Metaphors can help with your storytelling to persuade or make a sale. Metaphorically Selling (0976279401) by Anne Miller looks applying metaphors in business situations.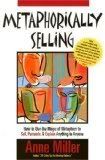 The book contains four sections. The first, "The Case for Metaphor" makes the case for using metaphors in making your business case. For one, metaphors appeal to both sides of the brain. Miller uses Robin Williams to present the right brain that focuses on showing and Joe Friday to represent the left brain, which relies on telling.
"Building Metaphor Muscle," section two walks through creating effective metaphors with a four-step workout (no physical work involved — all mental). It helps you take a snapshot of your audience and finding their blind spots.
Section three looks at applying metaphors in the selling process in "Selling with Metaphors." Miller gives examples of how a sports magazine sales rep finally won a new advertiser with a metaphor. She also shows how to create drama out of dry data. Also discover ways to start strong, reinforce points, tease with headlines, and explain complicated concepts without losing your audience.
Practice, practice, practice and maintain with section four, "Metaphor Maintenance." Start a collection of quotes, stories, and gems and you're on your way to becoming a professional clipper. These come in handy when you need ideas for presentations. Miller also shares her valuable collection of quotes to get yours going. While you might be tempted to use sports as a metaphor, take care knowing that not everyone is a fan of sports. Really.
You can read the book straight through or use it as a reference. Both ways work well. You can find what you need in the table of contents and jump right to it. The book comes in handy when you can't come up with a story or metaphor ideas.
Reading the book resembles reading a good fiction story — it flows and captivates. It also reinforces what you learn with worksheets at the end of each chapter to practice using metaphors. Combine the powerful tips from the book with your Beyond Bullet Points presentation, and your audience will lean forward and hang on to every word.